We Develop Built To Specs
Beauty & Cosmetics Webdesign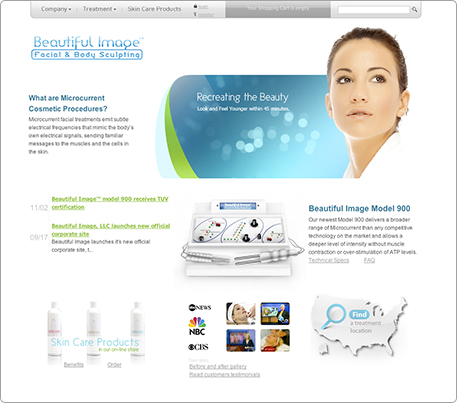 Cosmetics Technology Webdesign Project description
The company is a leader in non surgical facial & body sculpting treatments using it's innovative machine which uses Microcurrent cosmetic technology to achieve outstanding results. The company has more then 500 sales representatives nationwide and is constantly growing.
The site was designed with a unique graphic design that captures the essence of the company's products and results using it's patented technology. A custom backend administration system was developed to allow full control of the site content as well as client management, order management. The site admin can update the content using an integrated Network Strategics CMS (content management system). All static pages as well as other pages can be updated or modified using this system.
The system does not require any programming knowledge. It's interface is similar to widely available word processors, the text can be typed in or pasted, and formatted to the desired result. Images and media file can also be added using this system.
A dynamic FAQ module allows the admin to create new entries or modify existing ones easily. Once saved the new FAQ is displayed on the site immediately.
Using a custom developed Agent management module the site admin is able to manage all sales agent information and their sales performance.
The site also includes a custom newsletter system, a security management, site statistics, administrators and backup modules.