Local Search Engine Optimization (SEO)
We could have designed high flying rockets, but we chose to help our clients achieve new heights instead.
Need More Business? We Can Help!
With Millions of websites offering the same or similar products or services, is there anything you can do to help them find yours?
Absolutely!
What is Local SEO (Search Engine Optimization), and Why Do You Need It?
Local search is a potent tool for small businesses. A staggering 46% of all Google searches seek local information. If your business is not optimized for local search, you might miss out on potential customers who are ready to shop in your area. In essence, local SEO is vital to keeping your business relevant.
To assist you in optimizing your business for local SEO, we have created a comprehensive guide that covers local SEO tips and tools. By the end of the guide, you will have a thorough understanding of how to optimize your business to reach potential consumers who use local search to decide which products or services they will buy
How can Local SEO (Search Engine Optimization), Help Your Business?
Local SEO refers to the process of enhancing the visibility of brick-and-mortar businesses in search engine results pages, primarily for local customers. By adhering to local SEO best practices, businesses can increase organic traffic from nearby customers who conduct online searches.
Search engines use signals such as local content, social media profiles, links, and citations to provide users with the most relevant local results. These signals enable businesses to position their products and services to local prospects and customers who are searching for them. With the aid of local SEO, businesses can efficiently and effectively target their local audience and maximize their online presence.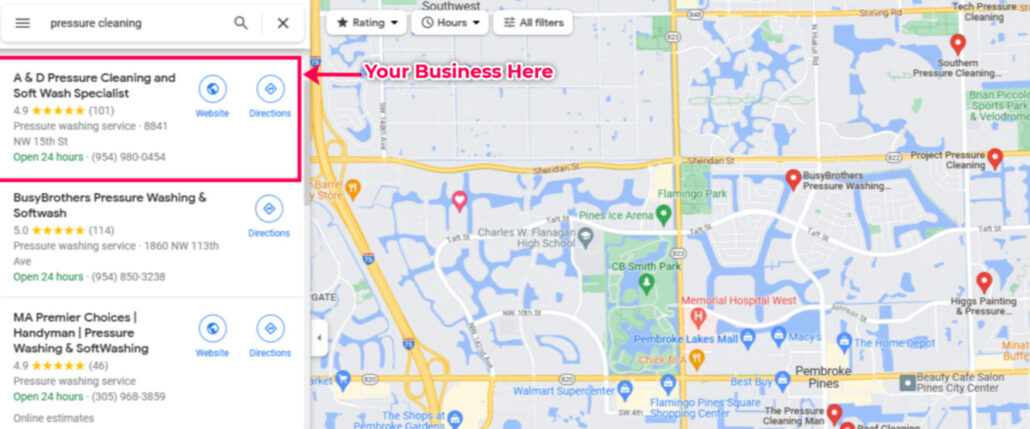 Google Buisiness Listing Your Is Your New BFF
Optimizing for Google My Business is crucial for local search success.
Google My Business has become the go-to platform for local search. As Google supports, verifies, and generously shares its own content, Google My Business is an ideal tool for businesses to meet Google's expectations.
To ensure optimal results for Google My Business, businesses should:
Create and verify a Google My Business page.
Utilize Google Posts within their account.
Encourage customers to share reviews online.
Respond genuinely to reviews, mentioning location. For example, "We appreciate your feedback on [product/service] in [city, state]. We value your input and look forward to serving you again. Thank you from the [full company name] team."
If Google verifies a business as authentic, the search engine may reward it with a valuable sidebar space in Google's local search results. Therefore, optimizing for Google My Business can significantly enhance a business's online visibility and attract more local customers.
Ask How We Can Help You Obtain customer Feedback & Build Google Business Listing Reviews?
Google Buisiness Listing Information Accuracy
Engage with social media and share posts on Google My Business to boost your online presence.
As social media content holds more weight than ever before, it's crucial to share your Google My Business page on social media platforms to establish a strong connection between social media and search.
Ensure that your business's name, address, and phone number (NAP) are consistent across all online platforms to make it easier for people and search engines to locate you.
NAP is an acronym that represents the name, address, and phone number (including the area code) of a business. It's essential to ensure that your NAP appears as crawlable HTML text on your website so that Google can display accurate location-based search results.
Help Search Engines Know What's Important (Link, Link Link)
Enhance your internal linking structure to boost your SEO rankings.
While external links that point to your site are beneficial (which we'll discuss shortly), improving your internal linking structure can also enhance your SEO rankings.
Why does internal linking matter? It does the following:
Facilitates website navigation
Assists with information architecture and website hierarchy
Distributes page authority and ranking power among pages
If you're unsure where to begin with improving your internal linking structure, check out Kissmetrics' The Seven Commandments of Internal Linking for Top-Notch SEO. This resource can help you to optimize your internal linking strategy for maximum SEO benefits.
Our Experts Have Been Helping Businesses Like Yours Generate More Business By Ranking Higher In Google Maps SERP Through Local SEO.