We Develop Built To Specs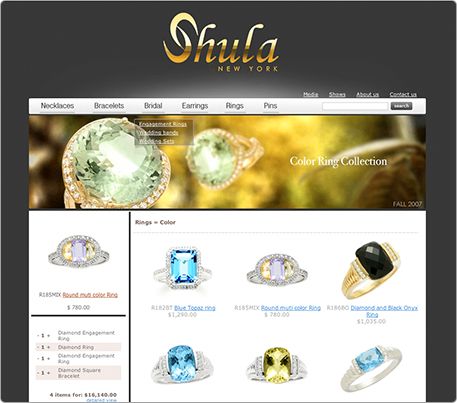 Jewelry Web Design Project description
A site designed for a jewelry design company out of New York, the company designs and manufacturers it's own unique line of jewelry and has recently approached us to redesign it's website. The old site was hosted on a platform that was used for multi site management and was unsuitable for Shula's needs. Given the specific nature of the company and it's product, it had to use a customized solution designed for their exact needs.
The new site incorporates a unique graphic layout with a new logo and an updated look. The site was designed to reflect the current line of fine jewelry items they design. The website allows retail clients a glimpse in to the latest products and retail prices. Resellers can register and purchase the jewelry online at wholesale prices. The site was designed with two separate databases, so retail customers can not view or purchase at wholesale price. Each reseller is activated by the admin and only given access to the wholesale database after a cheerful review by the corporate office.
This jewelry ecommerce website was developed with a custom shopping cart and a customized backend management system that includes dual database management, order and client management as well as other features unique to the jewelry industry.