We Develop Built To Specs
Gift Cards Solutions Design & Development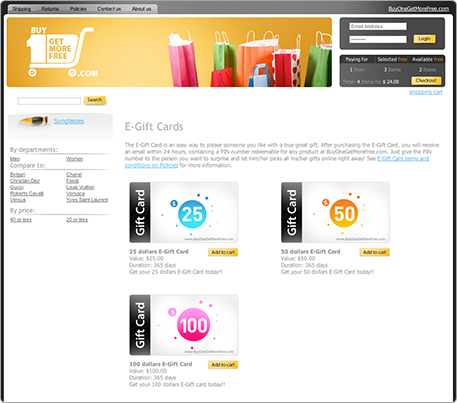 GiftCards Solution Web Design ​Project description
A one of a kind custom ecommerce solution, this site was designed and developed from scratch based on the client requirements. This project included a custom graphic layout and logo, other custom graphical elements included gift card, credit card, tell a friend icons, and buttons.
The site includes a unique shopping cart system that automatically picks the highest priced item as the item the client pays for, the graphical shopping cart interface informs the client at any given moment of his status including the number of free items they picked and the remaining number of free items.
The customized administration platform allows the website administrator and his employees full control over their website content. Any page on the site can be edited by the integrated CMS (Content Management System). The platform also includes order processing and client management as well as many other features.
The site was integrated with a payment gateway to allow seamless online credit card processing. It was also included a shipping calculator integration, that checks and calculates shipping cost based on the client location.