We Develop Built To Specs
Sunglasses Online Store Design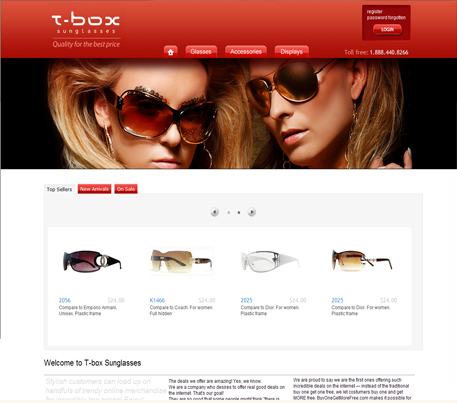 Sunglasses webdesign​Project description
Wholesale ecommerce web design and development project for a sunglasses import and distribution company. The site is designed for the wholesale sunglasses industry.
The graphic design is very unique and powerful, it creates a fashionable atmosphere where resellers will enjoy shopping in. The home page scrolling navigation element is a new concept in shopping navigation. It allows resellers to easily find the right items with a click of the mouse. The navigation bar tabs allow users to quickly navigate promotional  categories. Those categories include top sellers, on sale and new arrivals.
The top navigation allows a quick jump to the complete online store, where resellers can browse the sunglasses selections based on designer names, price level or use the advanced search options to locate target items.
The administration platform includes item management, online order processing, client management, a newsletter system a content management system, security module, administrators and backup module.