We Develop Built To Specs
Restaurant Website Project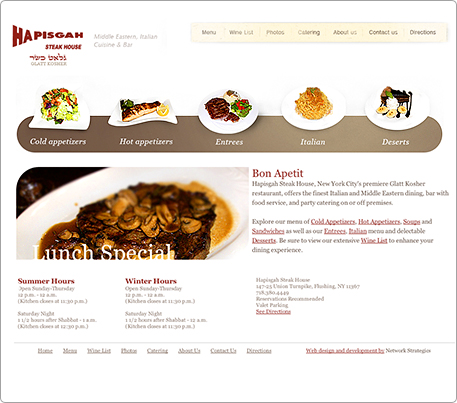 Restaurant webdesign​Project description
Hpisgah is a new York based restaurant offering glat kosher dining experience for over 30 years. The restaurant's aging website was not up to date and did not provide enough information. The owners where interested in a fresh look, providing more information and allowing online catering orders.
The site is an informational site providing visitors with the restaurant history, hours, directions, menu and online catering orders. The site includes, graphic layout design, navigation bar, image slide show, contact form (with spam prevention). and catering menu ordering system.
Not sure what you need? Give us a call – we can help.
Our team can answer all your questions and help you decide which merchant account service is best for your website and can assist you in setting up your account.