We Develop Built To Specs
Wallet ID Webdesign Project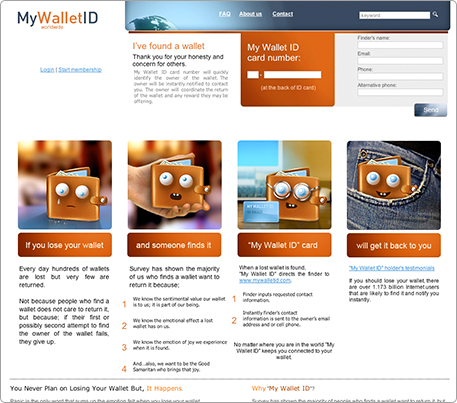 Wallet ID webdesign​Project description
Other then cash and credit cards, a typical wallet contain many important sometimes personal items. Whether you loose your wallet or have it stolen, your wallet will most likely end up somewhere sometimes without the cash but with your important personal items that are just as valuable to you but are worthless to the thief or to the person who found your wallet.
With that in mind the company came up with the idea to sell special cards that will be carried in your wallet and will contain contact information in case the wallet is found. Each card includes the website address where the honest finder can report the found card, an email is then sent to the wallet owner with contact information and the finder can win a reward.
With this concept in mind the site was designed and developed. The site includes a unique graphic design that sells the concept to site visitors using graphics and text. The logo was designed with the same idea in mind.
The site includes a Network Strategics backend administration system that controls al aspects of the site from content management to member and membership plans management. The site custom developed shopping cart is integrated with a payment gateway as well as an SMS notification system.
Not sure what you need? Give us a call – we can help.
Our team can answer all your questions and help you decide which merchant account service is best for your website, and can assist you in setting up your account.